Staff
Clergy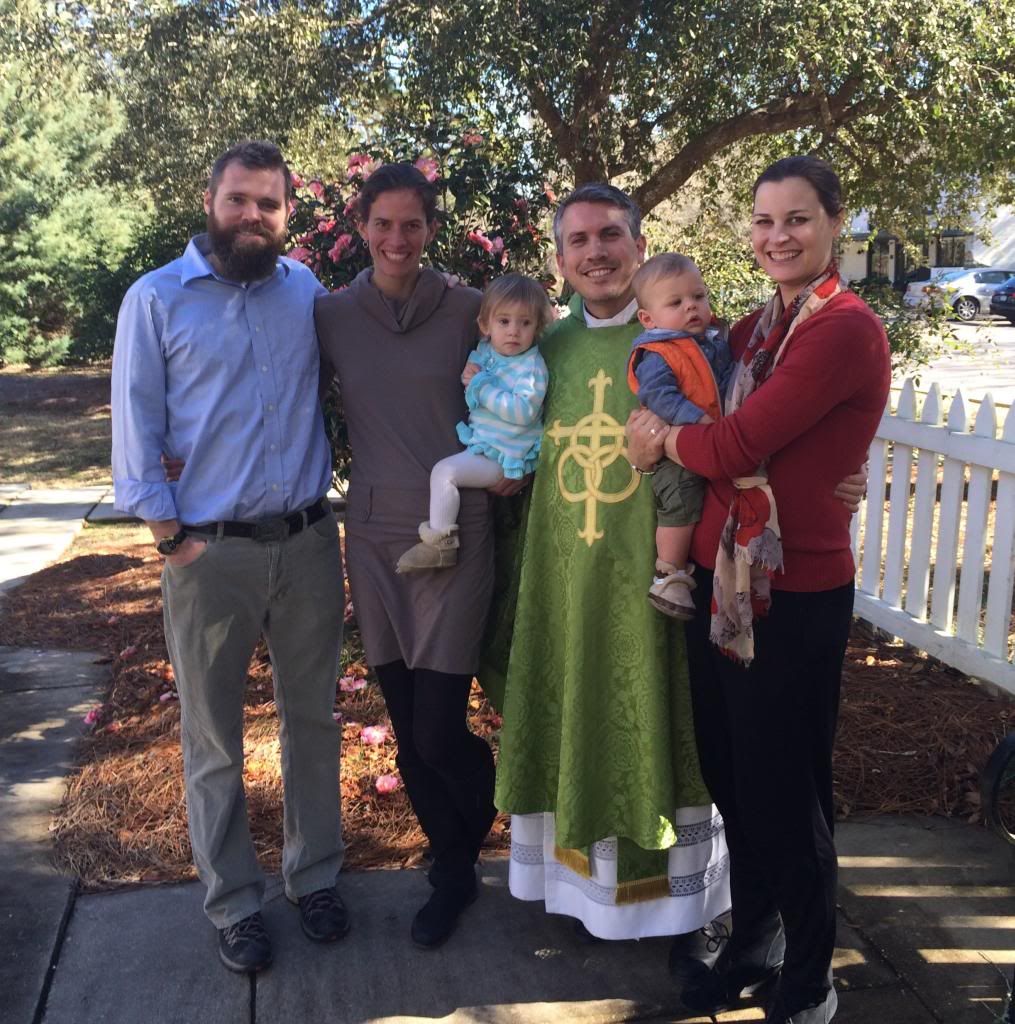 The Rev. Aaron W. Smith – Rector     Contact
Aaron, his wife Meredith, and two  son Ambrose and Clement, come to use from the Diocese of Pennsylvania where Aaron was Assistant at St. Matthew's Episcopal Church in Maple Glen, PA. Originally from Canada, he and his wife (a Californian native) have lived in Philadelphia, New York, Nashville and Toronto before coming here. Aaron is a graduate of the School of Theology, Sewanee (M.A. Theology), as well as General Theological Seminary in New York (S.T.M. Theology). He bagan his tenure as St. Paul's second Rector in September, 2013.
The Rev. Susan McKee – Deacon
Susan was ordained with the first class of The School for Deacons of the Diocese of the Central Gulf Coast. She shares her ministry with both the Chapel and with St. Peter's Bon Secour.  Susan lives in Foley, works as a Dental Hygienist in Mobile, and has three adult children: Robert, Rosellen, and JT Peddrick, two grandchildren Brees and Haylen whom she was blessed to baptize here at the Chapel.  She is a member of The Order of the Daughters of the King, The Episcopal Community and a Cannon Regular of the College of St. Jean-Marie Vianney. She enjoys labyrinths, baseball and the beach. 
Administrator – Donna Esslinger Contact
With degrees in history, English, and education from Michigan State University; further advanced work in English and psychology at the University of South Alabama Donna has taught in public, private and accelerated schools, community colleges and adult education programs.
Her career in history began as Research Historian and Editor of all historical publications for the State of Michigan's History Division during the 1970s, including Michigan History Magazine.  She wrote a variety of articles, monographs, booklets and pamphlets on Great Lakes history and is the author of two books, Heritage of Grand Traverse Bay: The City and Its People and Pines, Prayers, and Perseverance: The Evolution of Alma College. Later she was a commercial writer and public relations consultant for over twenty years for restaurants, architectural firms,  ski and golf resorts.
With husband Harry Bollinger, she owned and operated Talponia Press (private letterpress printing) and later opened Talponia Books (antique and rare books) with her husband, Dr. John  Esslinger.  She has been a public speaker for over twenty years and has attended St. Paul's Chapel since 1988, creating the position of Parish Administrator in 2004.
Organist – John L. Hobbs, B.M. – Organist
Vestry
Maybelle Godwin – Sr. Warden
Ross Houser – Jr. Warden
Jan Pruitt – Clerk
Emily Sommerville – Treasurer
Shannon Fountain, Chip Groner, Jeanine Melvin, Rusty Holt